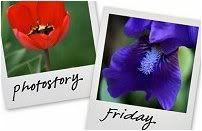 Hosted by Cecily and

MamaGeek
I can barely move. My back is having little spasms. I am sore. I am tired. I just want to curl up in one of the three massive piles of leaves I raked yesterday and go to sleep.
I feel like I have been raking all week. Well, I suppose I kind of have been. But yesterday was a massive overhauling of raking. I had to hurry to get the yard cleaned up so that I could get my piles into the street in time for the vacuum trucks to come by and pick them up. And now one day later I am still waiting for the trucks and watching as the leaves slowly get blown back into my yard. Ugh. I don't think I have it in me to go back out there and rake again.
After all the raking yesterday I went for a 5 mile run. It probably wasn't the best idea but I am trying to get ready for the 10K race I signed up for on Thanksgiving Day. Todd will be gone for a whole week before Thanksgiving so I will not be able to run outside while he is gone and I have to take my opportunities when I can. This was my first run this week because Todd has been working from early morning until late at night every day for the past few weeks. It has been kind of crazy around here.
And now? I'm exhausted. And sore. Did I mention my back hurts? Oh yeah, and I'm tired. But this weekend is no time for relaxation. It is go, go, go. But AFTER that? Oh wait, nope. No relaxation there either. I have to bake cookies and make treats for Todd to take up to deer camp. And after THAT? Well, it is just me and the boys for a whole week. But AFTER THAT? Well, maybe THEN I'll be able to relax.
(Doesn't that just look so comfy?)