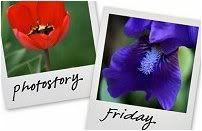 Hosted by Cecily and MamaGeek


The other day I brought Ben in the basement with me to get the laundry out of the dryer. As I was filling my basket I noticed Ben had snuck back upstairs. By the time I got all the laundry into the basket and another load started in the washer and another in the dryer Ben had already gotten into trouble. I heard the boys yelling, "MOM!!! Ben made a HUGE mess!" I ran upstairs with my basket and rounded the corner to the kitchen. ACK!!!! Ben had somehow managed to open the child safety lock on the kitchen cabinet doors and he pulled out my Comet (the powder kind) and dumped the entire container all over his head, clothes, legs, arms, and all over my freshly cleaned hardwood floors. I freaked! What if he got it in his eyes???? The laundry basket went flying as I dove for him grabbing the Comet out of his hands and began the careful clean up.


Remember how I was telling you I just had the carpets cleaned? I don't know where Ben got it but he found some lotion and began rubbing it all over his legs, arms, THE CARPET, his clothes. I just about crapped my pants. Why does this always happen after a major cleaning?
I swear I don't leave Ben unattended for long periods of time. I'm not taking showers while he has the rule of the roost. Heck I don't even go to the bathroom without dragging him along. It just seems that the one second I'm not looking he manages to cause complete mayhem.
There are so many stories of Ben pulling coffee grinds and potato peels out of the garbage that I won't even go in to detail. Suffice to say, the kid has become a handful.


Normally I am so freaked by the mess I obviously don't think about snapping a picture. But because this mess was somewhat contained I thought I would show you proof. And as I keep telling him, he is lucky he is so cute.
"Um, mom? I don't know what happened. I think I must have spilled my milk or something."
Lately it seems I can't take my eyes off of Ben for more than 30 seconds or something in the house will be destroyed. I used to brag about him being my laid back kid, but I don't really know if I can say that anymore. I've never had this much trouble with the other two boys destroying my house. But Ben? He is taking it to a whole new level.