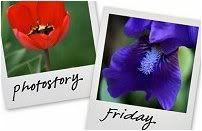 Hosted by Cecily and MamaGeek



When I was a teenager and all my teenagery angst would get to be too much for me I would run to my secret escape on the shores of Lake Michigan. I would sit with my notebook in hand and pour my deepest thoughts, worries, and heartbreaks onto it's pages. All my high school drama would wash away with the roll of the waves and I would be lulled into a quiet submission.
I don't know what it was exactly that was so stressful in my life back then. Perhaps school. Or friends. Maybe boyfriends, or lack thereof. Homework and my job. Maybe it was just me trying to figure out who I was. Who I am. Who I wanted to be. Maybe that was the stress.
Whatever it was I worked it out. I know who I am now. There is no doubt about that. I don't have homework or a "job", and I certainly don't have boyfriend issues. And yet the stress in my life has multiplied many times over. Only now, even though that same secret serene escape is still where it always was, I am unable to get to it. It is so close and yet so far. And after having a day like I've had today oh how I could use that quiet retreat.
I try it anyway. I go to the spot. Only this time I'm not alone. I bring three other parts of me to feel the strength of the healing secret too. But they are too busy to notice and I am too happy to care. This time it is not the waves that calm me but pure joy. I watch them pick up rocks and throw them in. I watch them splash in the pooled water on the rock's uneven surface. And I watch them hold hands as they are mesmerized by the water. Magically my stress is gone.
And I know that I will have that serene, quiet, alone time at my now not-so-secret spot much too soon.