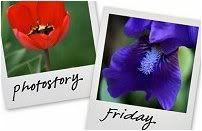 Hosted by Cecily and MamaGeek
We are big sports fans in Wisconsin. Whether it be football, baseball, hunting, hockey, fishing, skiing, or drinking we like our sports. Most people know how big the Packers and the Badgers are in Wisconsin. And now that the Brewers went to the playoffs this year you may even know we have a baseball team too. Have you heard of the Bucks? Because they are our "professional" basketball team.
But there is another sport in Wisconsin that very few people know about. Surfing. Are you surprised? I am every time I think about it. I can't imagine getting in that cold water for hours on end like the surfers do, but there they are every time the waves show themselves. There is actually a large surfing contest held in my hometown every year and we have become known as one of the top fresh water surfing sites in the world.
I have proof. See? Just a few of them on this day waiting for the big waves that were predicted.
This was a relatively calm day, but there are days the waves are huge. Our rip tides are very dangerous because not only will it suck you down but your limbs are half frozen by the cold temperature of the water making it tougher to get out of. We have had many rescues by our local Coast Guard station this year alone though most where for high school kids jumping off the pier or fisherman that had capsized.
The surfers are usually very careful. Although seeing them come out of the water with frozen icicles on their face makes me wonder about their sanity. But I had three boys in less than four years, so who am I to judge?