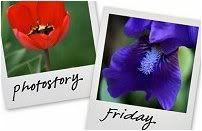 Hosted by Cecily and MamaGeek
The boys love it when Todd's work schedule allows him to drop them off at school in the morning. Yesterday was one of those days and Joey was thrilled. I gave both Todd and Joey a kiss, sent them on their way, and watched as they climbed into the truck. A few minutes later Todd pulled up to the curb at school, got out of the truck, and walked around and opened Joey's door. As Todd leaned in for his normally sought after goodbye kiss Joey said, "Uh, Dad? Could you not kiss me in front of all these kids?"
Todd chuckled and said, "Oh, sure. How about a good firm handshake?"
Joey smiled back, "Well, okay then."
They shook hands, Joey jumped out of the truck, grabbed his backpack from Todd, and took off running to catch up with his friends.
Ten seconds after that I got a call from Todd. There was a strange tone in his voice, hidden under his laughter, as he told me what Joey had said. A kind of mixture of pride and sadness I think. And I felt it too. Who knew it would start so soon? Who knew it would feel like this? Both exhilarating that our boy is growing up as he should, and devastating that it is happening so fast. One minute our first little baby boy is sleeping in our arms, and the next he is a little man bounding off on his own agenda. And yet again I find myself asking, "Already?"
Oh, be still my heart.