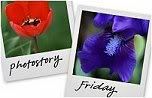 Hosted by Cecily and MamaGeek
I wasn't sure it was ever going to happen.
He is a cautious kid. He isn't into doing daring stunts that could possibly get him hurt. He is very calculating and always makes sure the odds are in his favor that things will turn out well. So, trying to get him to ride his bike without the training wheels has been a difficult task, to say the least.
Oh, I knew he could do it. But he didn't. I would run down the block with him (yes, almost 9 months pregnant) holding on to his bicycle seat and I would let go and he would ride just fine by himself. But the minute he would feel a slight wobble he would jump off the bike, kick it, scream at it, and be done trying for the day. No amount of cheerleading or cajoling would help.
Then yesterday I begged him to try again. He did fine for a few runs but then quickly tired of it. When Tommy saw the attention Joey was getting he decided he wanted to try. Even after we lowered the seat Tommy couldn't touch the ground so Todd decided it was time Tommy got his own bike.
Todd came back a short time later with a shiny new bike for Tommy and helmets, knee pads and elbow pads for all the boys (don't want them to feel left out, you know).
(Tommy was so excited to jump on his new bike)
Joey was so excited about the extra protection he would have that as soon as he put it on he grabbed his bike and took off down the sidewalk. All. By. Himself! He just took off riding. And now, just as I had predicted to him, we can not get him off of it.
(This is Joey just taking off. He went so fast it was hard to get a picture of him. Most of the pics were like the one below.)
Joey and Tommy are bike riding machines. Up and down the block they go. Back and forth, back and forth. By the next day, Joey wanted to spread his wings a bit more. He asked if we could go for a bike ride. Todd filled all of the bike tires up and off we went (yes, me almost 9 months pregnant). Joey was elated. And we were so happy for him. Mostly that he learned such an important lesson. Every few minutes we would ask him, "Now what did you learn, Joe?" And he would respond, "To keep trying! It is okay to fall, you just get back up and try again!"
Joe has been walking around the house like a new boy. He is so proud of his accomplishment. He did something that he didn't think he would be able to do and that is so amazing to see. I swear, watching him take off on that bike was one of the most exciting moments I have had in a very long time.
(All the boys having fun)
And now (even though I am almost 9 months pregnant and it is actually pretty painful) we all have a new favorite family pasttime.