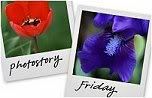 Hosted by Cecily and MamaGeek
Tommy was standing next to me as I was getting the boys' breakfast ready when he said, "We're skinny, huh?"
Without looking in his direction I answered, "Yep. You are little guys."
Tommy slowly looked me up and down, patted my belly gently, and said, "And you're... shaped like a ball."
Yep. That sounds about right.