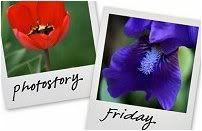 Hosted by Cecily and MamaGeek
When I was pregnant with Joey my mother-in-law gave me a precious gift. It was a beautiful, blue baby blanket that she had knit for Todd when he was a baby. It was the only thing she had ever knit which made it all the more special to me. She was hoping that my son, her grandson, could be swaddled in that same blanket and brought home from the hospital in it just as his daddy had been. I was moved to tears.
Of course, I did use that blanket to wrap Joey in and bring him home from the hospital. I loved the idea of him coming home in his daddy's baby blanket. There is something so romantic about it. And there is something so loving about a mother taking the time to make her baby a blanket that I was inspired to try it myself.
I enrolled in the first class I could find. A crocheting class. I learned how to crochet in a few weeks and set out making Joey his own baby blanket. I found the softest, fluffiest yarn of the purest sky blue. And though I did not attempt any fancy patterns, I was pleased with the outcome of his blanket.
When Tommy and Ben came along, they too were wrapped in their daddy's blanket and brought home from the hospital in it. And waiting for them at home were their own blankets that I had made. Each made with the same soft, fluffy yarn of slightly varying shades of blue.
The boys love their blankets. Occasionally, they'll snuggle up on the couch with their respective blankets. Sometimes they lie in the sunny spots in the sunroom with them.
And sometimes they just like to be goofy with them.
But most of the time the blankets stay draped over their beds ready for use when the mood strikes.
Now I have another little one on the way. Soon I will start yet another blanket. But no matter which craft store I have searched I have only seen three shades of blue in my favorite soft, fluffy yarn. If this baby is a boy I will be searching high and low for
one more
shade of blue so that he too can have his own baby blanket made my his mum.
Or maybe. Maybe I won't be reaching for blue yarn at all. I really don't know. I guess I just can't imagine that scenario. We'll find out soon enough. And whether baby is a boy or girl, he/she will be wrapped in daddy's blanket on the way home from the hospital. And waiting at home will be the softest, fluffiest baby blanket.
**********************************************************
The ultrasound is Monday. Don't forget to place your bets on the sidebar! What do you think? Blue or pink yarn?