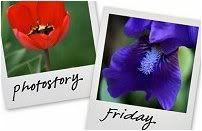 Hosted by Cecily and MamaGeek

When my mom stopped over with bakery on Tuesday morning she asked me if it had sunk in yet. Was I finally starting to believe that I was going to have a little girl? Of course, I said "no". I still felt funny referring to the baby as "she" and I hadn't even thought of picking out a cute little pink outfit yet.
I guess my mom thought she would help make it more real for me, because as I arrived home later that morning with my minivan full of groceries I saw a precious little pink outfit hanging on my door. A big smile spread across my face, and I knew right away who the gift was from.
It was the perfect little outfit. Nothing too frilly and fancy. Nothing with scratchy lace, or frilly, uncomfortable,
froo
-
froo
ruffles. Nothing too pink, or too loud. Just a simple little cream colored shirt in soft cotton, tastefully decorated with a few flowers, and matching pink shorts. Just looking at it made my stomach do flip flops.
I hung it on the inside of our front door for everyone in the house to see, and even the boys oohed and
aahed
over the sweet outfit. Joey kept saying, "Isn't this just the cutest thing
ever
? Mama, isn't our baby gonna look just SO, SO CUTE?" And Tommy added over and over, "This is for our little baby GIRL. She is gonna look so pretty! Our little GIRL!" Even Ben had to point and say, "Baby!" every time he walked by.
And I don't know if the outfit has worked it's magic or not. I don't know if it is sinking in yet. It may just take me a while. But it sure is nice to have a little bit of pink in this house.
We all think so.