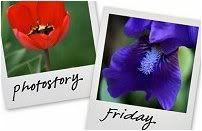 Hosted by
Cecily
and
MamaGeek
Ever since we had our
bathroom remodeled
and our shower completely overhauled Joey and Tommy have been constantly begging to take showers. They love going in there together whistling, singing songs, and playing around with buckets and scrub brushes like a crazy naked duo version of the seven dwarfs. Come to think of it I should give them tile cleaner and toothbrushes to scrub every nook and cranny next time they are in there. What? They'll think it's fun and I'll have a sparkling clean shower!
Anyway, it is one of life's great mysteries to me why when I make them stick their heads under the warm spray of the shower head they scream as if I am administering some kind of medieval torture devise, and yet they have no problem doing this...
or even this...
in the freezing cold sprinkler water. Why is that?