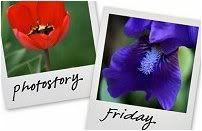 Hosted by Cecily and MamaGeek
The day starts out with a crossword puzzle at the kitchen counter. This morning I had a helper.
Then we head out to a local lake for some fun in the sun. Nothing better than digging in the sand,
or being pulled around in the warm water on a lobster while older brother lugs his deer into deeper water. Yes. My children have strange taste in floaties.
Time to quickly gulp down lunch so we can get back into the water as soon as possible.
A few more hours in the water and it is way past naptime. Anyone getting tired? A spacey stare tells me it is time to go.
After naps and more playtime outside, one by one, the sweaty boys climb on top of mommy for some snuggle time.
And hopefully the day ends like this.