Today is a good day. It has been super busy, but I am feeling so content and happy with life at this very moment that I wanted to take time to make a happy list and savour all I can. I want to remember exactly what is making me happy today so I can come back and read it again when I get grumpy.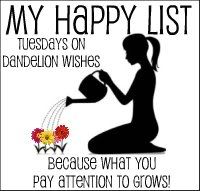 - Seeing all my kiddos dressed up in their Halloween best.
- Watching my whole family dressed up walking, laughing, and having fun together.
- Being scary on Halloween.
- Waking up super tired, but so content.
- Having lots of chocolate in the house and not worrying about eating some of it if I want to. I have weight to lose, but I'll lose it when I lose it.
- Having a clean house even after our Halloween party last night.
- Looking over at my hubby in church and knowing I made such a good decision.
- Joey getting student of the month.
- Joey and Tommy both wanting a kiss goodbye from me, in front of their whole school and everything!
- Going to my annual exam and finally getting my thyroid tested to see what my problem is. Also, finding out my resting heart rate is 48. See how relaxed I am, people?
- Seeing brand new babies in the waiting room at my appointment, and being so thankful for having the four I've got.
- Trees still covered in leaves, blue skies, and blue water.
- A nice, stress-relieving run.
- No snow yet, and none in the forecast.
- My sweet, furry kid. She is so happy and sweet and well behaved. Not to mention cuddly and fuzzy. Plus, when you throw the ball for her she bounces super high in the air like a bunny rabbit.
So, that's my list so far. What's on your thankful list today?