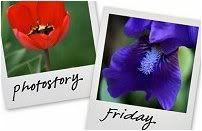 Hosted by Cecily and MamaGeek
I know this has been said so many times before that it is fast becoming cliche, but I never knew what I was getting into when I started blogging. Never did I imagine that I would actually make friends with strangers and take comfort in their wisdom and kindnesses. And yet after yesterday's post it is clear to me that is what has happened.
I swear I have the best bloggy friends and readers in the WORLD. It is like you know exactly what I need to hear and what to say at the right moment. You have all been so inspirational to me through the past year or two whether it was dealing with my father's illness, day to day dealings with my little monsters, or even loosing the "dream" house. You are the best! And not one of you has told me to shut my whiny trap yet, though I probably deserved to hear that more than once.
I really want to thank you all for being so kind.
To say that I am feeling better about the house situation is an understatement. I know that the right situation will fall into our laps at exactly the right moment, and I am truly not worried about it anymore. Todd, my mom, and all of you are exactly right. God's plan is always best, and I trust Him. But thank you for reminding of that when I needed to hear it. You all continue to amaze me.
Today I received a package in the mail from
Laura
at Lunatic Fringe. She sent baby girl the sweetest little sleeper and the most gorgeous slippers along with toys for the boys and a beautiful card. I am blown away. A "stranger" wanted to send my kids something special. I swear it makes me want to cry.
Thank you so much Laura. It was so incredibly thoughtful and I can't wait to see the little lady in her adorable outfit and shoes. And the boys thank you too. :)
Yep. I definitely have the most amazing bloggy friends. Again, thank you all for your kindness and support. I am so appreciative. I hope you all have a fabulous weekend.
********************************************************
Updated:
On Monday I received another surprise package from the lovely
Kelley
. She makes beautiful girly items and sells them on Etsy. She sent me some adorable handmade bows, and even some sweet little headbands to attach the bows to in case little lady is a baldy. Isn't that thoughtful? There are bows in every color. I just love it! Thank you so much, Kelley! You are such a sweetie!