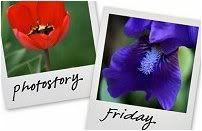 Hosted by Cecily and MamaGeek
Yesterday the boys and I went to pick up Ben's big boy bed. Daddy dutifully took down the crib and put the bed together the minute he got home from work. We hauled the bed upstairs, and after carefully washing the bedding we set it up in Ben's room. To say he was thrilled would be an understatement. He crawled onto the bed and didn't want to come off. He bounced, he sat, and he showed all of his stuffed animals their new home.
He even practiced lying in the bed to get a good feel for it.
When it was time for dinner Ben had to be pried off the bed, kicking and screaming. I think he liked his new digs.
That night we kept the same routine as always except we included a gate in his doorway to our nightly ritual. I told Ben he would get juice in the morning and any kind of treat he wanted if he slept like a big boy in his bed. I tucked him in, closed the door, and sat outside of his room waiting. And listening. Nothing.
I turned the monitor up so loud I could hear him breathing, and the ceiling fan whirring, but other than that the room was silent. I crossed my fingers and hoped it would be an easy night as Todd and I talked about how stressful each new transition seems to be. More so on us, though we hide our panic, than on the boys.
I lie awake all night listening for any moans or cries that might come from Ben's room. I held my breath as the ambulance sirens (Ben's biggest unexplainable fear at the moment) blazed past our house at 1:00 in the morning for the fourth time this week. Still, no sound from Ben's room. An hour later I heard cries. But they didn't come from Ben. I quickly ran to Tommy's side to shush and comfort him. I solved the stuffy nose problem, and put him back to bed. As I tip-toed over our creaky wooden floors I prayed that Ben would sleep through the chaos. He did.
When Tommy got up at 5:30 to go to the bathroom and accidentally slammed the door I cursed under my breath. Still, Ben slept.
Todd, Joey, and Tommy got up and went downstairs while I waited in bed for any noise from Ben's room. Finally I got up at 6:30 with Ben still snoozing in his bed. A few minutes later I heard rustling on the monitor and I rushed up to his room where he was chilling and relaxing.
HE DID IT! He slept all night in his big boy bed without any fussing or complaining. No crying. No getting out of bed. No rummaging through his drawers and tossing clothes around. No playing with toys. He was A. Big. Boy.
I was so proud of him. We all danced around and sang songs of Ben's big-boyness. We got him juice! We got him COOKIES! We jumped up and down and clapped our hands. And he loved it.
He was a happy boy, clearly so proud of himself. Later in the morning he even let his brothers sit on his bed for a few minutes, though he constantly reminded them, "Mine!" Just in case they got any funny ideas, I suppose.
It went better than I could have imagined. I am so proud of my little big boy.
Now I just have to keep my fingers crossed and my breath held for naptime.