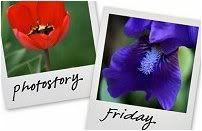 Hosted by Cecily and MamaGeek




Yesterday afternoon our final offer was accepted on the new house. We got the call at home and when Todd hung up we both just looked at each other. It finally felt real. I immediately got a sick, queasy, sinking feeling. We were really going to leave our house. Todd began to look around at our house and said, "I remember the first day..." and I said, "Stop it!" I just couldn't go there because I knew I'd start bawling. We both looked at each other again, this time with tears in our eyes. Yes, this is the right step for our family but it is hard to let go of our first home too.

I spent the rest of the afternoon taking pictures of our house and putting them on a website for homes for sale by owner. I cried and cried as I wrote the description of our house. Can you feel the love in what I wrote?


"LOCATION, LOCATION, LOCATION!

This beautiful Cape Cod home is situated in a most desired quiet northeast side location just a few blocks from the lake, schools, and shopping. The house boasts an updated kitchen with custom cabinets, stainless steel appliances, an undermount sink, and Brazilian hardwood floors. Built-in cabinetry in the dining room, crown molding throughout, lovely woodwork, open staircase, and a cheery sunroom add to this older home's charm.

The upstairs spa-like bath has beautiful tile, updated vanity and sink, and an antique Kohler clawfoot tub. Each bedroom is equipped with a walk in closet.

The lower level is fully finished with plenty of room for a pool table, a movie area, a playroom, or just extra storage. A brand new bathroom with Travertine tile, a pedestal sink, and a huge shower with a state of the art in-ceiling Kohler rainpanel completes the lower level making it a wonderful extra living space.

The partially fenced in backyard has a perennial garden, a beautiful flowering crab apple tree, and a tall hedge for privacy. A one car garage and a driveway offer off street parking.

This home is truly a must see!"

I had to force myself not to write, "Love our home. Won't you love our home? Please, just look how wonderful it is. Won't you love it for me?"

I remember the day we moved in to this house. The sellers, a young couple with two children, had left us a little card. In it they had written that this home held many special memories for them and that they hoped it would bring us as many warm, loving, fun times as it had for them. That card touched me when I first read it and it touches me even more now knowing the love they were talking about. I can only hope that a young couple finds this house and fills it up with love and warm memories too.

I'm feeling better today. I know we will take these wonderful memories with us and make so many more at the new house. I know this move will be more of a beginning than an end and I'm excited for our family. If we ever really get to move.

This whole moving process is much more complex than normal because we found out that a relocation company may buy this house out from under us at any moment. The company was hired to find the sellers a home in Texas and according to their contract as soon as they find them a suitable home they will buy the house up here and sell it. Since we have a contingency to sell our house in the offer to purchase the relocation company could buy it before we get a chance to sell our house. We could then buy it from the relocation company (at a higher price, I'm sure) but they do not accept offers with a contingency to sell. Egad. So basically we have to sell our home ASAP and CLOSE on it before the relocation company (or another buyer that does not have a contingency to sell) buys it first. Stressful enough?

Anyway, we are just gonna keep plodding along doing our thing. We are prettying up the yard, making minor fixes (the ceiling fan light the boys broke throwing toys, the shades the boys cut with scissors, the blinds Ben took a bite out of), getting rid of a bunch of stuff, and cleaning out the basement this weekend so that we can have an open house next weekend. If it all works out and we sell our home quickly then it was truly meant to be. If not and someone else buys the other house then at least we have a completely clean house, right? Right?

Let's just hope that by the end of all of this I am not locked away in a padded cell.