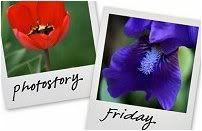 Hosted by Cecily and

Honey Mommy
I was in Tarjay the other day when a woman came up to me and asked how I do it. How do I keep my little baby warm in this cold. The woman just moved here from California and she said she couldn't imagine having a little one to carry around during these freezing Wisconsin winters (I didn't have the heart to tell her that it hasn't even been that cold yet). So, how do I keep my babies warm?
It is called layers. Lots and lots of layers.
Luckily, I found some really cute layers.
And if that isn't warm enough we bundle. First, layers of clothes, then blankets, then hats and mittens, and then a cover up. See?
All cozy and warm and snug as a bug in a rug.
I kind of wish someone would bundle me up and carry me around like this when it is cold outside.