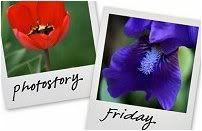 Hosted by Cecily and She's a moron and can't remember...
I know that Todd looks at this picture and sees his future hunting buddies,
but all I can think of is these three boys answering the door when Gracie's dates comes a calling.
"So, you want to take Grace on a date, do ya?"