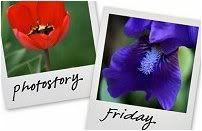 Hosted by Cecily and MamaGeek
It has been a pretty stressful time around here. Not just with selling the house, construction and remodel projects, busy school life, expecting a baby, and busy work schedules. But with the things that really matter. Long time marriages falling apart. Families being torn apart. Serious health problems. So much has been thrown into our laps this past month that Todd and I repeatedly find ourselves tossing our hands up in the air and declaring that the whole world has gone mad.
I think it is especially important at times like these to see all the good things in life too. And what better time to stop and smell the flowers than on the cusp of summer.
They are everywhere, if you just take the time to see them.
And speaking of the good in life. If you haven't already done so, please stop by
my last post
and give me your thoughts on my list of girlie names. We are running out of time!