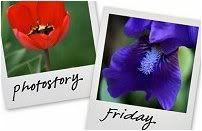 Hosted by Cecily and MamaGeek
This week was a week of firsts for my boys. Especially Benny. He got to see all the best things about summer, and he was loving it. They all were.

We found a fabulous park right behind my dad's nursing home complete with a merry-go-round! The boys had never even seen a merry-go-round before because some all-wise-power-that-be decided to take them out of all the public parks. Such a disgrace. I was so excited to find this one. We all jumped on and I taught the boys one of my favorite park games from my childhood. Dropped it, got it. Do you know it? You all lie down on your bellies on the merry-go-round, spin it around, and take turns dropping a stick on the ground for everyone to try and grab. The person who grabs the stick off the ground is the next one to drop it. You try and drop it way under the merry-go-round or far enough out to make it really hard to reach. Doesn't sound like much, but it is a ton of fun.
Joey loved to be the pusher and then jump on when it finally got fast enough. Grandpa was just off camera sitting at a picnic table laughing and enjoying watching the boys. It was a great day and now the boys want to go visit grandpa all the time. hehe
This week the weather finally got warm enough to set up the pool for the first time. It was also the first time Ben was able to play in the pool. Last year he was too new. I think he liked it.
And it was the first time the big boys were brave enough to dunk their whole bodies into the cold water. It really didn't take too much convincing.
This week was the first time all three boys went to the zoo together. We were able to meet up with my best friend (since first grade!) and her adorable kids and we all had a blast. The kids liked seeing the animals but loved playing in the
huge
play area.
The only way I could tear them away was to promise them a ride on the train. A very small train, I might add.
While we were on the train Tommy announced, "This is my first time on a train!" Another first for all of my boys! They were so tuckered out from playing at the zoo that they all fell asleep in the car in about two minutes and remained asleep for almost the whole two hour car ride home. Another first!
This week Ben decided to slide down the slide all on his own for the very first time. I even managed to capture the moment with my camera!
Climbing to the top.
Sitting down.
Letting go!
And touchdown!
It was an amazing week. I was even able to maintain the go-with-the-flow attitude (although discipline is definitely still on the menu- can't have sassy kids, ya know) I've been working so hard at. I was the kind of mom I wanted to be. I just hope I can keep it up.
And there was no time for melancholy. I was too busy having fun and making memories.