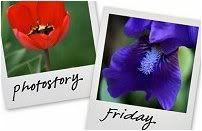 Hosted by Cecily and MamaGeek
we have the schmultz family:
We are not the type of family that has ever been afraid to spontaneously break into song. It is actually a common occurrence. Someone is always singing in this house.
I grew up watching musicals with my folks, the three of us singing along with the TV at the top of our lungs. All my friends used to tease me and say that I probably should have been born in the 50's when that sort of thing was actually considered cool. And Todd? Well he is just a complete goofball that has always loved making up silly songs to make people laugh. Yep. We are nerds. And we're fine with it.
It appears the boys have inherited the drama gene. They love to sing along and act out scenes from their favorite movies. Here they are joining hands with all the Whos in Whoville a couple of weeks ago. Todd and I are delighted with their love of music and their love of goofiness. I just hope that if they meet up with some good-natured ribbing from their friends down the road they will still keep that I-can-break-into-song-at-any-moment kind of personality.